GrantMeFood is an Atlanta area supper club that unites a group of strangers in our home for an evening filled with incredible food and interesting conversation. We combine global cuisine with a farm-to-table approach to take you on an adventure of flavor and texture that'll change your life. Ok, maybe it won't change your life, but we promise it'll be fucking tasty.
'Tis the season...no, not that season...tomato season! The later weeks of summer bring the plumpest, juiciest, most incredibly tasty tomatoes you'll have all year. We're such big fans of this amazing fruit that we decided to create a menu with 5 courses to celebrate it in all its glory. As usual, we'll open up the evening with with a coktail and snacks, then guide you through a range of preparations, each paired with different wines, to help illustrate the diversity of the tomato.
How it works: We currently have 8 seats at our table where our guests enjoy thoughtfully crafted courses and beverage pairings. The social experience is just as important to us as the food, so we keep our numbers low to help foster new relationships in a unique setting. Diners will get an email with all of the details, including the address of the dinner location after booking their seat.
The Menu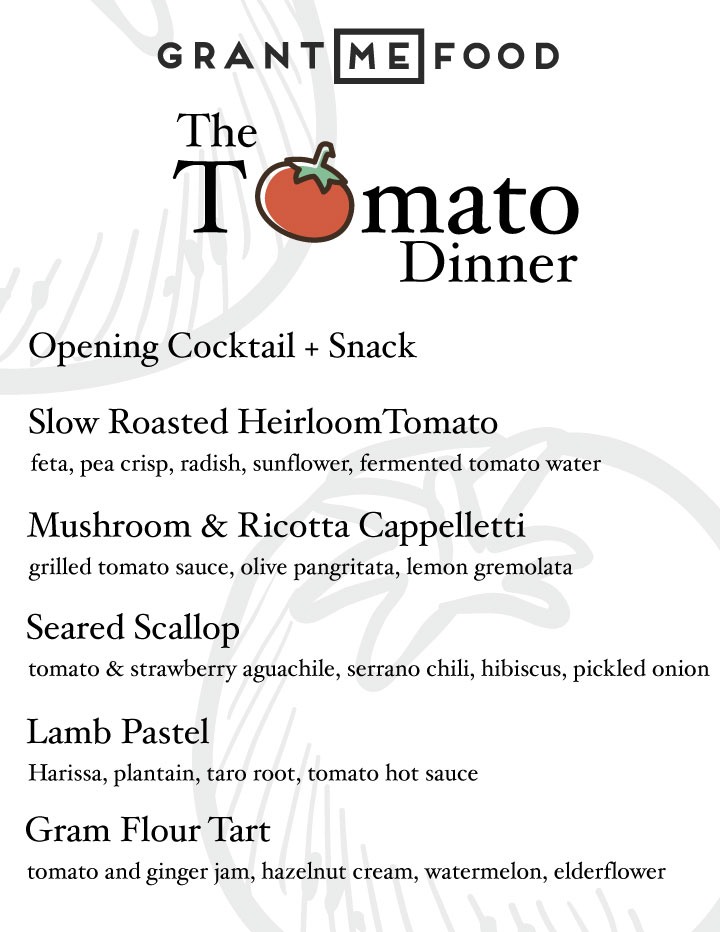 We politely decline substitutions and modifications, but will try to acommodate food allergies if possible. Shoot us an email at eat@grantmefood.com with questions if you have these restrictions. This menu is subject to change based on availability from our producers.